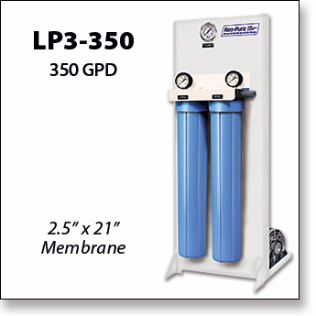 Reo-Pure™ LP3-WMS Light Commercial Wall Mount RO Systems are the most sought after systems, if space is a premium and simplicity of operation and maintenance is your desire. The LP3-WMS Series is a wall mount version of our most popular Reo-Pure™ RO System, the LP3 Series. Designed with the same characteristics that made the LP3 Series sought-after, but in a lightweight wall mount unit.
The most popular

Reo-Pure™

line introduces the latest generation of low-pressure RO systems - The LP3 Series! Over 40 years of trusted experience and proud workmanship gives you the highest industry standard. Every LP3 model is engineered with ultra-low operating pressures, high flow membranes, compact design, and high production capabilities. Only quality components are used to provide accurate system monitoring, quick and easy maintenance and years of trouble-free operation! The Reo-Pure™ LP3 Series offers a variety of models, ranging from 50 gallons per day to 1,750 gallons per day.

Designed to offer a cost-effective solution for many residential and light commercial applications. Engineered with the latest encapsulated membrane technology to provide industry leading recovery, meaning less water sent to drain. This compact RO system is a stand-alone floor model, or wall mountable. A variety of instruments and monitoring tools offer a wide range of capabilities.
REO-PURE™ LIGHT COMMERCIAL REVERSE OSMOSIS SYSTEMS